Club Meets
Over the years, there have been many international SOHC/4 meets organized by our members.
The Ride Book
The Ride Book was an idea hatched in 1997 by Linda Julien to commemorate the First New England Ride (NER). On the first page, it is written, "This is Volume I of many of the Journals of the Honda Single Overhead Cam-4 Owners Group". And so it began. The Journal, or the SOHC/4 Ride Book, as it later became known, was sent around the world to various SOHC/4 events in 1997 and 1998. Events recorded during this third year of the Club's existence included the First NER, the First WER – West European Ride, the First Mid-West Ride, MWR, and the Honda Hoot Gathering in June 1998.
1997 - First East Coast Gathering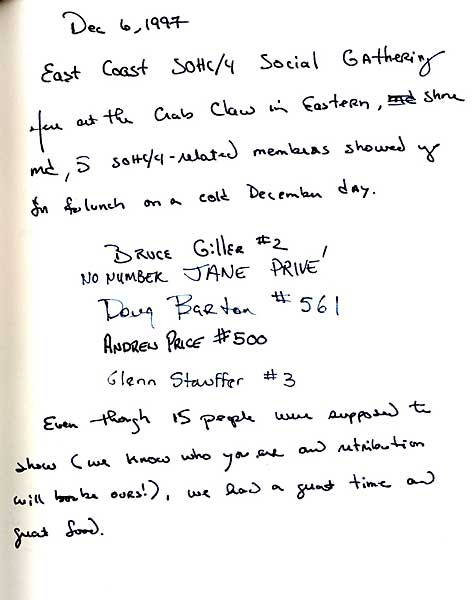 The East Coast SOHC/4 Gathering was a lunch time gathering of some of the mid-atlantic region members that took place in Easton, Maryland on December 6, 1997. Attending were Glenn Stauffer, Bruce Giller and his wife Jane Prive, Doug Barton, and Andrew Price.
1997 - Inaugural New England Ride
The First New England Ride took place on August 1, 1997 in Woodstock, New Hampshire, USA. Six SOHC/4 members participated in this ride:
Linda Julien, #315
Dave "From Maine" Whitney, #394
Jack Raitto, #128
Karen Brooks, #237
Bob Gross, #321
Neil Christie, #313
1997 - First West Europe Ride
The First Annual WER took place over several days beginning on 8/16/97. The ride centered on Ghent, Belgium with forays to Nieuwport, Ostend, and Brugge.
Riders in Attendance:
Linda Julian from the US
Johnny Verhoeven of Belgium (the organizer)
Rene van Maanan of The Netherlands
Axel Griessman of Germany
1998 - Second East Coast Gathering
The Honda Hoot, Ashville, NC, June 1998 The 1998 Honda Hoot in Ashville, North Carolina was the occaision for another gathering of the SOHC/4 faithful. Attending this gathering were Steven Barber, Airyn Darling, Phil Jeffey, Glenn Stauffer, John & Reneee Hilpertshauser, Lloyd Horton, William McNulty, Bruce Giller, and Dave Myers.
1998 First Midwest Ride
The inaugural MidWest Ride took place on 9/20/1997 starting in Dubuque, Iowa and followed the Great River Road along the Mississippi through Iowa, Illinois, ending up in Prairie de Chien, Wisconsin.
Riders in Attendance:
Scott Kilborn
Steve Ensley
Brian Finnegan
International Meets
2006 Ace Cafe London
This ride was organized by Steve Dennis on January 5, 2006.
2006 Northern California Ride
This ride took place north of San Francisco on August 27, 2006.
St Louis Ride
This ride was organized by members Einyodeler and Louvinmoto.
2006 Gilmore Vintage Show
SOHC/4 members rode out to the Vintage Motorcycle Weekend at the Gilmore Car Museum in Hickory Corners, Michigan USA.
Ally Pally
Members visited the Ally Pally show at Alexandra Place in London, UK
Box Hill
Members gathered at Box Hill in the UK (5/29/2006)
2006 Classic Mechanics Show
A group of SOHC/4 enthusiasts met at the 2006 Classic Mechanics Motorcycle Show in the UK.