CB350F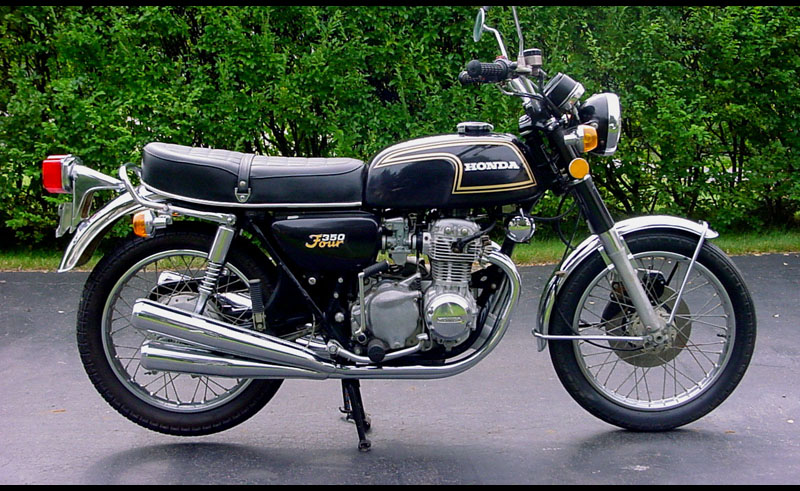 History
The small Honda FOUR was initially intended to be two models, a 250cc and 350cc model. In the end, it was judged that the performance of a 250 would be disappointing, due to internal friction losses that were beyond the technology of the time, so only the 350cc four was put into production. The CB350/4 proved a suitable entry level machine for the North American market and Europe. In spite of its entry-level focus, the CB350 was luxuriously finished with an upright riding position, four tilted-up silencers and chromium-plated mudguards. When first introduced, it attracted attention as the world's first four-cylinder production bike of such small capacity, but this curiosity never translated into market appeal and the CB350 was never a big seller.
Serial Numbers
| Model | Model Year | Frame | Engine |
| --- | --- | --- | --- |
| CB350 F0 | 1972/1973 | CB350E-1000001 | CB350F-1000001 |
| CB350 F1 | 1974 | CB350E-2000001 | CB350F-2000001 |
Model Guide
CB350F0
The CB350F0 was offered in 1972 and 1973 and was available in two colors, Candy Bacchus Olive and Flake Matador Red with white and orange tank stripes. The side cover emblem, "350 Four", was painted red and white. Like the other single overhead cam bikes in 1972, the CB350F featured a 4 exhaust pipes and a 5 speed transmission.
CB350F1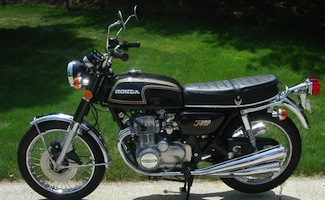 Th 1974 CB350F1 was available in one color, Glory Blue Black and featured gold tank stripes. The side cover emblem, "350 Four", was painted white and orange. The exhaust and mechanicals remained the same.
Specifications
| | |
| --- | --- |
| Tires | |
| Front | 3.00x18in. Bridgestone |
| Rear | 3.50x18in. Bridgestone |
| Brakes | |
| Front | 10.25×1.5(x2)in. |
| Rear | 6.3×1.2in. |
| Brake Swept area | 67.8sq.in. |
| Specific Brake Loading | 8.03lb/sqin |
| Engine | |
| Type | in-line four cylinder, SOHC |
| Bore and Stroke | 1.85×1.97in.; 47x50mm |
| Piston Displacement | 21.2cu.in.; 347cc |
| Compression Ratio | 9.3:1 |
| Valve Clearance, intake | 0.05mm |
| Valve Clearance, exhaust | 0.05mm |
| Carburetion | 4; 20mm Keihin |
| Float Height | 21mm |
| Ignition | Battery and coil; breaker points |
| Contact Point Clearance | 0.3-0.4mm |
| Spark Plug | D8ea |
| Capacities | |
| Fuel Tank | 3.2gal/12.1 liters |
| Oil | 3.2 pints (3.5 liters) |
| Electrical | |
| Lighting | 12v, 156 watts |
| Battery | 12v, 12ah |
| Transmission | |
| Gear | Ratio |
| 1st | 20.93 |
| 2nd | 14.18 |
| 3rd | 10.83 |
| 4th | 8.75 |
| 5th | 7.39 |
| Frame | |
| Wheelbase | 53.2in. |
| Seat Height | 31 1/4in. w/rider |
| Ground Clearance | 6.1in w/rider |
| Curb Weight | 394lbs., 1/2 tank gas |
| Test Weight | 544lbs w/rider |
| Performance | |
| Power (crankshaft) | 32Hp (23.8Kw) |
| MPH/1000rpm, top gear | 9.83 |
| 0-60mph | 8.4 seconds |
| Standing Start 1/4 mile | 15.61secs.; 81.96mph |
| Top Speed | 98mph |
| Est. Gas Mileage | |
Links